My Favorite Planning Tools (And How To Avoid The Perfect Planning Tool Trap)
Time Management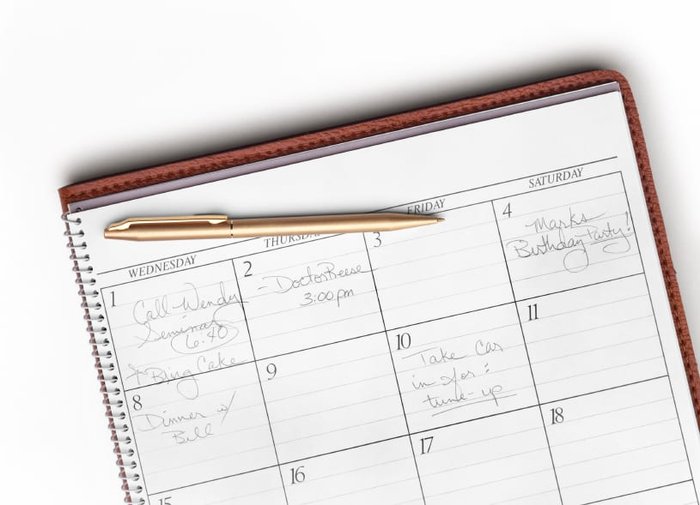 Elements of a Good Planning System
Everyone loves planning tools.
Whether it is an app, daytimer, fancy software, or regular old notebook there is so much potential and hope stored inside that fresh new system.
A new tool offers you the chance to wipe the slate clean, reset your priorities, and make yourself more efficient.
In fact, the idea of a new tool is so seductive that I see many of my clients jump from one tool to the next forever in search of that elusive product that will finally make everything click.
This is what I like to call The Perfect Tool Trap.
It's the sneaky belief that once you can find the perfect tool – your system, organizational prowess, and ninja time management skills will fall perfectly into place.
While a planning tool is a huge piece of the time management puzzle it is not the whole puzzle.
Your tool (customized to fit your life and your work style) is just one piece of the system.
The other critical elements include:
A consistent daily or weekly ritual to use and review your tool (a.k.a. planning)
A consistent daily or weekly block of time to do your work (a.k.a. protecting project time)
A consistently fueled body and mind (a.k.a. energy management)
This is the system underneath your tools. And when you have a good system with strong habits in place – it doesn't matter how much you jump from one tool to the next – your system will follow.
Selecting the Right Planning Tool For You
Let's assume you have these elements in place and aren't relying on your planning tool to do all the heavy lifting.
How then do you find a tool that fits how you best operate?
First you want to determine whether you need a digital, paper or hybrid system – this handy quiz will help you.
Next you want to differentiate between "capture tools" and "tracking tools". Generally we have tools to capture our tasks in the moment (think sticky notes, voice memos, notepads, etc.) and tools we use to actually store and track tasks until they are completed (think Outlook Tasks, Microsoft Excel, a notebook, app, etc.). Being aware of these categories will help you determine the best tools for you.
Resource –> For a step-by-step process for setting this up check out my time management workbook here.
Finally you want to tune into your intuition. What planning tools are you naturally drawn toward? Try not to be swayed by what your perfectly organized friend or co-worker is using. Consider what elements work best for you? Automatic reminders, integrated calendar, beautiful or functional colors? Be OK with experimenting.
My Favorite Planning Tools
While my favorite tool is the one that works for you – there are a number that continue to be popular with my clients that I have included below. Note: if you are happy with your current tool – please don't feel the need to fix what isn't broken.
Paper
Planner Pad – some really love the visual "funnel" this tool offers to help plan your week.
Franklin Covey – This is my calendar and I love the to-do section below for date-specific tasks.
Circa Notebooks – If you like the idea of easily moving pages around a binder system this may work for you. 
Memogenda – This is basically a fancy notepad but I have many clients that love them.
Digital
Productivity Suites: (Things, Omnifocus, Microsoft Office) – These are powerhouse programs that manage your tasks, projects, and calendar.
Cross platform task apps: (Wunderlist, Todoist, Any.do) – All receive high marks for managing your day-to-day tasks.

Team-based project apps: (Trello, Basecamp, Asana) – Powerful programs used for managing many large projects across teams.
There you have it! Now it is your turn. What is your favorite planning tool? Be sure to share below.